We have had some beautiful butternut squash in the produce boxes over the last few weeks, so here are two recipes to warm you up and satisfy your taste buds while relaxing before (or after) the Thanksgiving rush.
A thick, creamy soup is the perfect meal on a cool fall evening and sopapillas are great for sopping up the extra. They are moist and - surprisingly - don't taste of squash, so if you have squash-haters in your family, this is a great way to use it up!
Curried Butternut Apple Soup
6 cups peeled, seeded, and cubed butternut squash (about 2 1/2 lbs squash)
2 large sweet apples, peeled and cubed
1 medium onion, diced
2 cloves garlic, minced
2 TB butter
1/4 cup packed dark brown sugar
2 tsp curry powder
4-5 cups chicken or vegetable stock (use more for a thinner soup)
1 (8oz) pkg cream cheese*
2 tsp salt
sour cream and croutons (optional)
Peel and cube the squash and apples into small pieces. Dice the onions.
Melt butter in large saucepan over medium heat. Add onions and cook 5-6 minutes or until tender, stirring occasionally. Add squash, apples, brown sugar and curry powder. Cook and stir one minute or until curry is fragrant.
Add stock and bring to a simmer over medium heat. Simmer 25-30 minutes or until squash is very soft. Remove from heat.
Carefully ladle 1/3 of mixture into a blender (do not attempt to mix all of the soup at one time!). Leave the plug in the lid slightly open to allow steam to escape and pulse the blender until no chunks remain. Pour into a mixing bowl. Repeat one more time. Mash the remaining soup mixture and add to the puree.
Return to pot and whisk in sour cream and salt until completely incorporated. Return to heat and bring to a simmer again.
Remove from heat and garnish with sour cream and croutons if desired.
*if desired, sour cream or plain yogurt could be substituted for the cream cheese to make a lighter soup. The soup will be slightly thinner this way.
recipe adapted from The Pampered Chef
Second Day soup -
Thai inspired vegetables and rice
Add cooked vegetables (whatever you have - carrots, zucchini, green beans, snap peas, mushrooms) and shredded chicken (leftover Turkey, anyone?) to the leftover soup and serve over rice.
Butternut Squash Sopapillas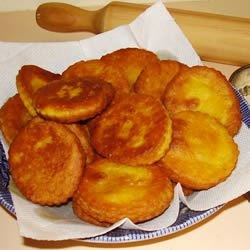 1 1/4 cups Butternut squash
4 1/4 cups flour
1 tsp baking soda
1 tsp salt
8 TB (1 cube) butter, melted
2 cups oil, for pan-frying
Mix the flour, baking soda and salt together in a mixing bowl and set aside.
Stir together the squash and melted butter. Stir the flour mixture into the squash until blended. Turn the dough onto a lightly floured surface and knead until soft and satiny, adding a little more flour if necessary. Cover dough and allow to rest for 15 minutes.
Roll out dough to 1/8" thick and cut into 3" diameter circles. Poke each circle with a fork in the center to prevent it from ballooning when frying.
Pour vegetable oil into a large skillet and heat over med-high heat until hot. Place several of the circles into the oil and cook until lightly browned. Drain on paper towels. Cook remainder the same way.
Serve with whipped butter, honey, jam, honey-butter, or soup.
recipe adapted from allrecipes.com
Next recipe posting: Wednesday, 11/30/11