I must have been in a generous mood when I first tried this casserole, because it is a little more adventurous than I usually am. However, the entire family liked it - even the previously winter-squash-and-green-pepper-hating ME. It was simple to prepare and, surprisingly, the only complaint was that we wanted MORE.
Squash Feta Casserole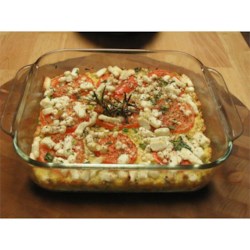 Ingredients
2 cups winter squash, cut in half
½ - 2/3 of a green bell pepper, finely chopped
1/4 cup grated Parmesan cheese
2 tablespoons crumbled feta cheese
cracked black pepper to taste
Directions
Preheat the oven to 350 degrees F (175 degrees C). Lightly grease a medium (9x9) casserole dish.
In microwave, heat squash for 9 minutes to soften. Remove from heat, and cube.
In a medium bowl, blend the eggs and heavy cream. Mix in the squash, green onions, bell pepper, and Parmesan cheese. Season with salt and pepper. Transfer to the prepared casserole dish. Top with feta cheese and sliced tomato, if desired. Season with pepper. Bake 45 minutes in the preheated oven, until lightly browned.