This was my Granny's go-to recipe, the one that came with her to all the family gatherings. We all loved it, but as she got older, the horseradish got stronger, so we ate smaller and smaller portions. Maybe she did that on purpose so that she had more left over for later! Since we aren't horseradish fans at my house, we substitute garlic instead, and enjoy Gran's classic dish with a little less "kick."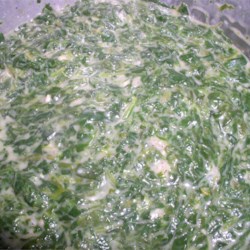 1-2 TB horseradish sauce OR minced garlic (for a more mild taste)
*optional* substitute fresh horseradish instead
(Gran likes even more!)
Preaheat oven to 350
°
. Brown bacon & crumble. Cook spinach and onion according to directions on box. Drain. Soften cream cheese. Mix everything together & place into greased pan. Bake for 35-40 minutes.